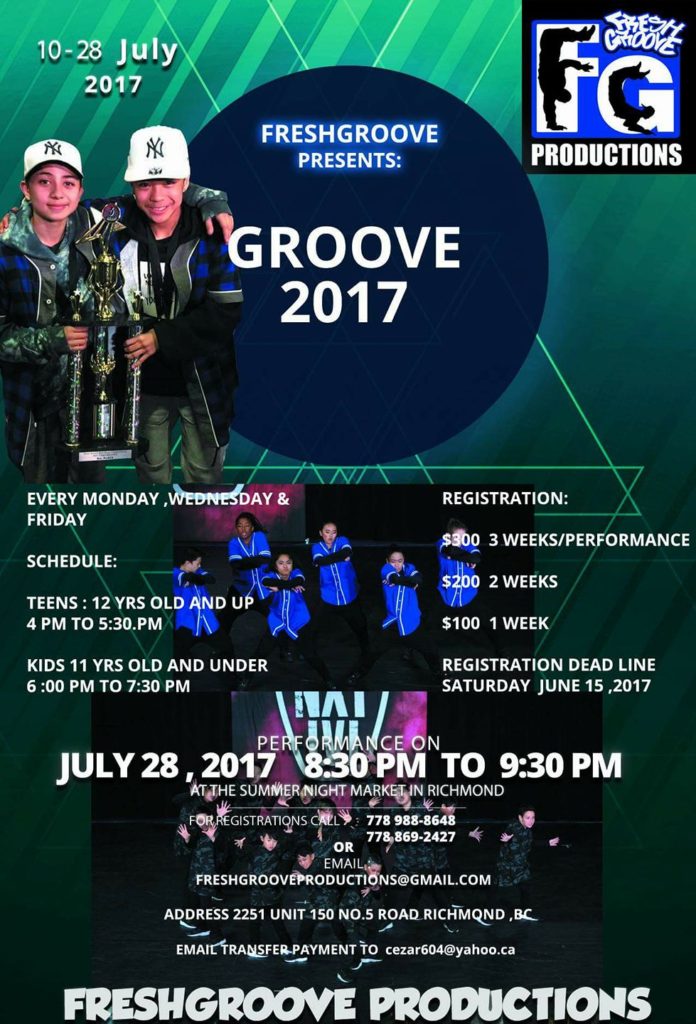 Summer is coming up pretty quick! It is time again for us in Fresh Groove to be able to share our passion with you. We are having our 10th Fresh Groove Summer Dance Camp.
July 10 to Friday July 28 , 2017 – 3 Weeks Dance Camp
It runs MONDAY , WEDNESDAY and FRIDAY
4:00 PM TO 5:30 PM TEENS 12 YRS OLD AND UP
6:00 PM TO 7:30 PM KIDS 11 YRS OLD AND DOWN
The routine that they will learn here , they will perform it at Fresh Groove 's Annual Summer Show " GROOVE 2017 " at the Summer Night Market in Richmond. Friday July 28 , 2017 8:30 pm to 9:30 pm
Fees:
$300 3 weeks w/performance
$200 2 weeks
$100 1 week
* REGISTER SOON! SPOTS ARE LIMITED!
TO REGISTER :
Email us back the students Info including:
NAME OF STUDENT
AGE
PARENT NAME
PHONE NO.
CHOOSE:  1 WEEK, 2 WEEKS, or 3 WEEKS with PERFORMANCE
METHOD OF PAYMENT:
EMAIL US BACK OR CALL NICOLE (778) 869-2427 CEZAR (778) 998-8648 TO ARRANGE TO DROP OF PAYMENT TO THE STUDIO SATURDAYS 1-2 PM (CASH OR CHEQUE PAYABLE TO FRESH GROOVE PRODUCTIONS)
EMAIL TRANSFER PAYMENT TO cezar604@yahoo.ca
REGISTRATION DEAD LINE: JUNE 15 , 2017
Please do not hesitate to email us back or call us for any further inquiries and questions.
We are looking forward to share our passion with you.
Cezar Tantoco
Director/Choreographer